Enhancing A Great Living Environment
Event Description: Project E.A.G.L.E. "Enhancing A Great Living Environment" is a half-day volunteer clean-up focusing on Winter Haven area lakes! Project E.A.G.L.E is a volunteer litter and debris cleanup focusing on Winter Haven area lakes from 8:00 am to 12:00 sponsored by Keep Winter Haven Clean & Beautiful, a non-profit organization and City of Winter Haven. The staging area for the cleanup is Lake Shipp Park in Winter Haven. Activities include volunteer collections of litter and trash in the water (volunteers with personal boats and kayaks) and with shoreline volunteers. A free tee-shirt, lunch and clean up supplies are provided to registered volunteers. Numerous exhibits and displays of environmental and educational information are available. Entertainment is a live band/music, a ski show and children activities. Join in the fun activities, environmental exhibits, bounce house for the kids, music/band, boat rides, extreme ski shows and more!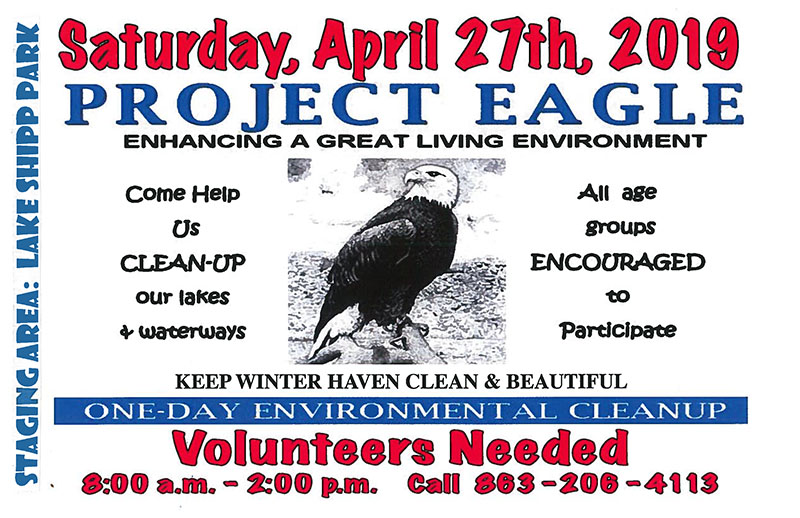 This annual Chain of Lakes cleanup has become a long-standing tradition for many families through the years as this year was the 29th year for Project E.A.G.L.E. This event is sponsored, in part, by Keep Winter Haven Clean and Beautiful, Inc., the City of Winter Haven, other partnerships with community service organizations, businesses and volunteers.
Water gets easily polluted when mixed with litter and trash. To prevent polluting our lakes, it is essential to properly dispose of litter and trash. Recycling litter and trash before it reaches the lake is a great solution. Whenever possible, it helps to pick up litter and organize cleanup groups locally. Additionally, getting active and involved in environmentally friendly activities is a great way to prevent and reduce pollution. This cleanup effort is greatly needed as it makes possible cleaner habitats for fish and waterways for those enjoying the beautiful freshwater sports and activities that are sometimes taken for granted.
Project E.A.G.L.E is about the lessening of water pollution that includes litter and trash. Litter and trash is one pollution form that everyone can have a direct effect upon. Anyone who does this by participating in a cleanup campaign is helping to educate others on the negative impacts of litter and debris in our waterways. Cleaning up shoreline and aquatic litter and trash provides a direct and positive role in protecting our aquatic habitats in our lakes. Participating in cleaning an area can help the public realize that solving water pollution problems requires everyone's involvement, leading to the future development of an environmental ethic and heightened commitment preserving water quality, beauty, and wildlife through participation in Project E.A.G.L.E. and our beautiful lakes environment.
The staging area is at Lake Shipp Park and is a family event. We are proud of our community and our spectacular Chain of Lakes. Volunteers should bring gloves and a net or pike pole to collect trash if not coming to the Lake Shipp staging area for supplies. Sponsors will provide gloves and bags if you need them. Volunteers can either walk the shore or bring a watercraft of choice from which to work. Help Project E.A.G.L.E. soar for another year.
Date: 4/27/2019
Time: 8:00 AM TO 2:00 PM
Place: Lake Shipp Park
1651 Lake Shipp Drive
Winter Haven, Florida 33880
Phone: 863.206.4113
For more information, please call Tracy Mercer, Keep Winter Haven Clean and Beautiful, Inc. at (863) 206-4113.